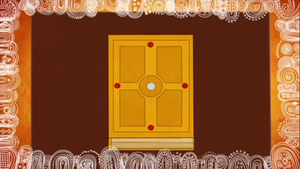 The Book of Iona, later known as the Book of Kells, is a book featuring elements from christian religion. Collumcille started creating it, later Brother Aidan worked on it and finally Brendan, who finished it. The most beautiful page is the Chi'Rho Page, of which is told that it can turn darkness into light. Some illustrations are so detailed that a magnification glass was necessary to make them.
The Book of Kells really exists, but of course has now magical powers.
Image Gallery
Edit
Ad blocker interference detected!
Wikia is a free-to-use site that makes money from advertising. We have a modified experience for viewers using ad blockers

Wikia is not accessible if you've made further modifications. Remove the custom ad blocker rule(s) and the page will load as expected.